What Swimming Gear Do You Need for Your First Triathlon?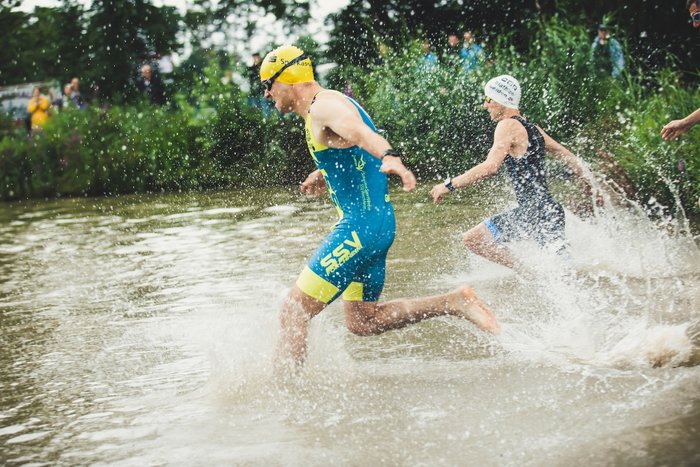 Becoming a triathlete can be rewarding if you're a beginner athlete or want to change paths in your athletic career. It's one of the best ways to get into shape, challenge yourself, and have fun. Participating in a triathlon can also help you test your limits and meet new people in scenic locations. 
Besides running and cycling, you should also never miss participating in a swimming competition. However, like other sports, you must invest in high-quality swimming gear to ensure a safe and comfortable triathlon experience. 
Unfortunately, it can be difficult for beginner triathletes to determine their needs. If you want to create a memorable first triathlon, this article will enumerate the swimming gear you need for pool and open water competitions. 
Pool Swimming Essentials 
This swim type is ideal for super sprint distances in adult triathlons and is a great starting point for young triathletes. If you want to do a pool swim in a triathlon, you should be in a pool that's 25 metres long. You'll also need to swim 16 lengths of the pool, totalling 400 metres. 
If you want to jumpstart your first triathlon, this section will enumerate four essential swimming gear for this type of swim.
1. Goggles 
You should find swimming gear to help prevent vision damage and eye infections. You must test your goggles to see if they're comfortable and don't fog up and leak. On the other hand, you should base your style of goggles on your unique preferences. Many swimmers favour smaller goggles that fit snugly around their eyes instead of larger ones. Always remember to keep a spare pair for any unexpected situations.
2. Earplugs and Nose-Clips 
Getting pool water in your ears and nose can be an unpleasant experience and irritate your nose and ears. You can prevent this by investing in swimming gear like nose clips and earplugs. Swimmers will also learn to adjust to the chlorine and swimming environment through practice.
3. Swim Cap
Besides increasing your risk of eye, ear, and nose infections, your hair is also at high risk if you regularly practice and participate in swimming tournaments. Event organizers usually provide swimmers with swimming caps to identify the group they're swimming in. You can also protect your hair from tangling by placing another one on top of the existing one.
4. Swimwear
Whether you have a swimsuit, trunks, jammers, or a tri suit, you can wear whatever you want in swimming. However, if you'll be cycling afterward, you can opt for form-fitting swimming gear to reduce drag. You can also wear board shorts if you're not a fan of tight swimwear. 
Open Water Swimming Essentials 
Many swimmers want to move away from swimming pools and test open waters like lakes or seas as they gain more experience in triathlons. It's a new environment with different conditions, and everyone should take more safety precautions. This section will enumerate three essential swimming gear for open water tournaments.
1. Goggles
You should invest in goggles with tinted lenses to reduce glare from the sun, especially if you swim early in the morning. Light-enhancing lenses can also help make things brighter if the day's overcast.
2. Lube
This essential swimming gear helps you remove your wetsuit quickly and reduce the rubbing and irritation between your skin and the neoprene, especially around the neck when you turn your head while swimming.
3. Wetsuit
Competitions can require wetsuits, be optional, or ban them altogether if the water is warm. These swimming gear are available in different buoyancy levels, and thermal wetsuits are suitable for freezing waters.
Gearing Up for a New Adventure
Swimming is an integral part of the triathlete experience. Investing in high-quality swimming gear can help you get the most out of your first triathlon. 
VO2 Sports Co offers professional swimming gear in Ontario. We're a sporting goods store that only sells expert-approved products so our customers can enjoy the best quality. Browse our collection now! 
Be the first to comment...