Triathlete Hub | Mountain Life Article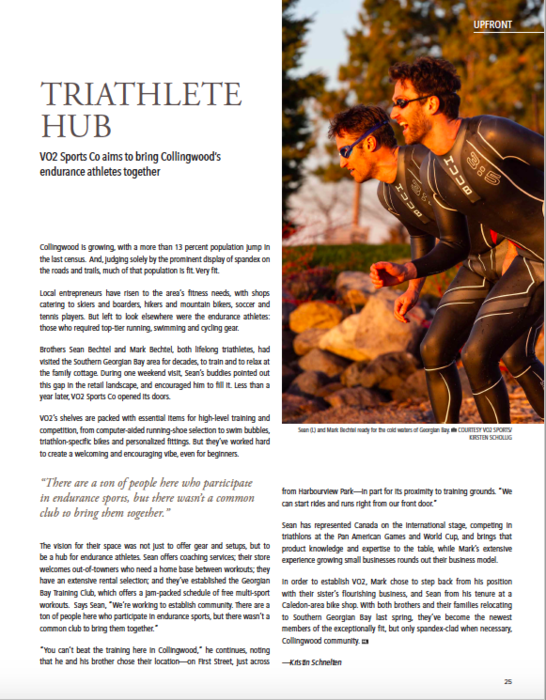 Collingwood is growing, with a more than 13 percent population jump in the last census. And, judging solely by the prominent display of spandex on the roads and trails, much of that population is fit. Very fit. Local entrepreneurs have risen to the area's fitness needs, with shops catering to skiers and boarders, hikers and mountain bikers, soccer and tennis players. But left to look elsewhere were the endurance athletes: those who required top-tier running, swimming and cycling gear. Brothers Sean Bechtel and Mark Bechtel, both lifelong triathletes, had visited the Southern Georgian Bay area for decades, to train and to relax at
the family cottage. During one weekend visit, Sean's buddies pointed out this gap in the retail landscape, and encouraged him to fill it. Less than a year later, VO2 Sports Co opened its doors. VO2's shelves are packed with essential items for high-level training and competition, from computer-aided running-shoe selection to swim bubbles, triathlon-specific bikes and personalized fittings. But they've worked hard
to create a welcoming and encouraging vibe, even for beginners.
The vision for their space was not just to offer gear and setups, but to be a hub for endurance athletes. Sean offers coaching services; their store welcomes out-of-towners who need a home base between workouts; they have an extensive rental selection; and they've established the Georgian Bay Training Club, which offers a jam-packed schedule of free multi-sport workouts. Says Sean, "We're working to establish community. There are a ton of people here who participate in endurance sports, but there wasn't a
common club to bring them together." "You can't beat the training here in Collingwood," he continues, noting that he and his brother chose their location—on First Street, just across from Harbourview Park—in part for its proximity to training grounds. "We can start rides and runs right from our front door." Sean has represented Canada on the international stage, competing in triathlons at the Pan American Games and World Cup, and brings that product knowledge and expertise to the table, while Mark's extensive experience growing small businesses rounds out their business model. In order to establish VO2, Mark chose to step back from his position with their sister's flourishing business, and Sean from his tenure at a Caledon-area bike shop. With both brothers and their families relocating to Southern Georgian Bay last spring, they've become the newest members of the exceptionally fit, but only spandex-clad when necessary, Collingwood community.
—Kristin Schnelten
Be the first to comment...