Brothers dive into new business venture on First St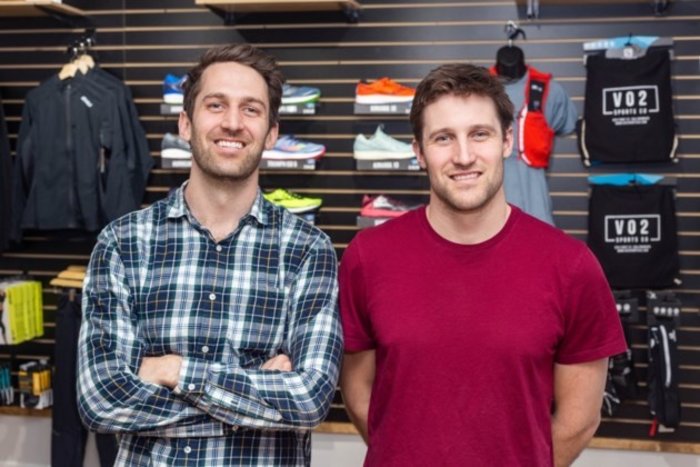 Two brothers from Caledon have brought their business idea to town, hoping to attract athletes of all kinds.
Mark and Sean Bechtel are co-owners of VO2 Sports Co., which opened on April 6 at 524 First Street in Collingwood. VO2 Sports Co caters to athletes who run, swim and bike, with the store divided into sections for each sport. While the store could be considered a one-stop shop for triathletes, Mark says that's not all they are.
"We don't want to be known as a triathlon shop," said Mark. "We want to be known as a swimming, biking and running shop. With triathlons, they put everything together, and they don't really focus on one specific thing."
Mark says he and his brother have knowledge of each sport individually, as well as the three combined, which he thinks sets them apart. Mark also credits Sean with coming up with the idea in the first place.
"My brother is an ex-professional triathlete," said Mark. "He competed in world championships, world cups, and he's done Ironmans as well."
Mark says Sean was working in bike shops in Caledon last year and made contacts in the Collingwood area that expressed interest in the idea.
"He found that Collingwood was really in need of a specialty store," said Mark.
While the brothers grew up in Caledon, Mark says his family owned a cottage near Meaford, so the brothers spent a lot of time in the Collingwood area during their childhood summers.
"Collingwood, obviously, is growing so much," said Mark. "It's big with entrepreneurial start ups, like us. With the population growing, it can support a business like this."
"We both love it here. We're both outdoor enthusiasts, so this is the perfect spot for us," he added.
In August of 2018, Mark says Sean came to him with the idea.
"At the time, I was working at a start-up business with my sister. It was doing well... but I was at a point where I wanted to do something different," he said, adding that he also has a background in running and swimming.
The two brothers decided to combine their expertise and dive into the new business venture together.
"It was quite the whirlwind to get it open," said Mark, with a laugh. Mark has since made the move from Caledon to Collingwood, with Sean expected to move to town in June.
"Now that the shop is open, we can focus on the shop a little bit more while reaching out to different people in the community," he said.
The store focuses on higher-end road bikes, which Mark says is more suitable for cycling around town and taking advantage of the Collingwood bike trail system.
"We wanted to carry stuff that we know the most about," he said.
For runners, the store carries high-end brands, and has a high-tech sensor pad that customers can stand on that senses where the runner carries their weight. The customer will then be matched with the shoe that best suits their needs.
"It creates more of an experience for the customer. We want to make sure the shoe is right for that person," said Mark.
On the swim side, the store carries both racing suits and regular suits. They also carry triathlete-specific gear.
While the business has only been open for about a month, Mark says the response so far from the community has been great.
"The running, swimming and cycling crowd in Collingwood is huge. A lot of people are curious about the shop," he said.
In addition to opening the store, the brothers have also started the Georgian Bay Training Club.
"As of right now, we're running a few run workouts a week. Once it starts getting nicer out, we'll be adding a couple of bikes and some group swims in the bay," said Mark. "Every workout we have, there's a few more people who show up. I think it's going to be a big thing in the community."
"Instead of training by yourself, you can come and go for a run with others. It helps with motivation," he added.
For more information on VO2 Sports Co., click here.
Be the first to comment...