The aero paradigm has evolved. Gone are the elongated, deep-section, teardrop shapes and hard edges that were previously thought to be the most efficient at slicing through the wind. The latest industry research and theories have shifted aero bike development towards truncated, squared-off profiles (sometimes referred to as "Kammtail" designs) that have been optimized for real-world riding conditions. As a result, thoughtfully designed bikes will perform better during the actual riding and racing conditions that cyclists encounter most often. As the performance benefits of this new paradigm have taken hold, we've seen a validation of the speed gains ourselves. Our development of the new AR followed these theoretical models and industry improvements with more deliberate, hands-on efforts to advance our own platform.
Disc brakes are found on the entire Felt road line-up. Our all-around road bike model (FR series), our cyclocross race bike (FX series), and even our flagship triathlon model (IA series)—all of which have won World Championships in recent seasons—feature disc brakes. Through testing and experience, we know that disc brakes can win races on the biggest stage. So from the beginning of the AR project we knew that the next-generation bike would have disc brakes exclusively.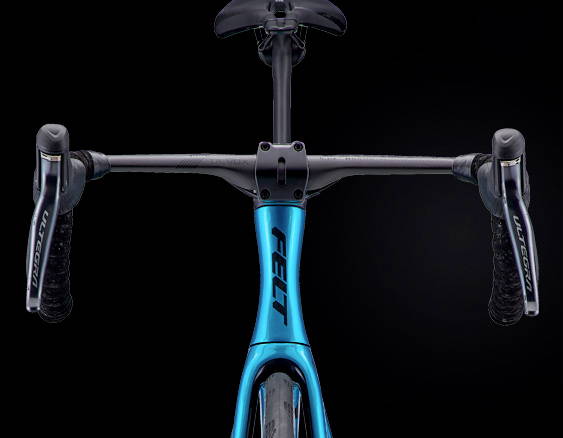 COCKPIT & STEERING/HANDLING
While fully hidden cable routing systems can appear aesthetically minimal when installed in a precise configuration, a truly closed-off system carries with it several drawbacks. Chief among these is a significantly more tedious and time-consuming maintenance process. It also makes the bike more difficult to easily break down for travel. And, due to inherent space constraints, many fully hidden systems can cause excessive wear and tear on cables and housing if not perfectly set up by an expert mechanic. Likewise, one-piece handlebar-and-stem configurations limit a rider's ability to dial-in their preferred body position, as well as fine-tune their favored steering interface. With the AR's tried-and-true system, riders have the option of using our semi-integrated stem (in lengths from 80mm to 140mm) or their favorite stem in whatever material and length they prefer, as well as their preferred handlebar in a myriad of materials, shapes, and sizes.